Android hybrid with cordova and ReactJS
In the last post Android hybrid with cordova we discussed how to hybrid an Android App with cordova.
Now we'll make a further step: use web framework ReactJS on web part of the hybrid App.
Create ReactJS project
First you should have Node.js installed.
Then execute npx create-react-app web under directory of your hybrid App project.
Configure Webpack
Webpack 4 may not work well. Issue: Cannot read property 'thisCompilation' of undefined. So we use webpack 3.11.0 instead of the newest version.
npm install --save-dev webpack@3.11.0 babel-core babel-jest babel-loader node-sass css-loader sass-loader style-loader

Create webpack.config.js under App/web
Modify App/web/package.json scripts.build to "react-scripts build && ./node_modules/.bin/webpack --config webpack.config.js".
Web code
Move App/web/src/logo.svg to App/web/src/images.

We will not pack images in webpack, so we can make some changes in App/web/src/App.js, remove import logo from './logo.svg';. Change <img src={logo} className="App-logo" alt="logo" /> to <img src='images/logo.svg' className="App-logo" alt="logo" />

We need an html page to use the ReactJS code. Just copy App/web/public/index.html to output directory App/web/www, rename it to react.html. Add a line <script type="text/javascript" src="bundle.js"></script> under <div id="root"></div>.

Create some tool scripts to build and copy generated files to SD card of device. Check android-tools.py of CordovaDroid.
Native code
Now we shall create a new native Activity to embed react.html. Create ReactActivity. Don't forget add it to AndroidManifest.xml and make a new button in MainActivity to jump to ReactActivity.
Create a new react.xml in App/src/main/res/xml which use react.html we just created.
Go to App project directory and execute python3 android-tools.py, select build -> qa -> debug (type 1,1,1). The script starts to build ReactJS project and Native App, then upload generated web files to SD card.

Run App from Android Studio, click REACT button. You would get following page.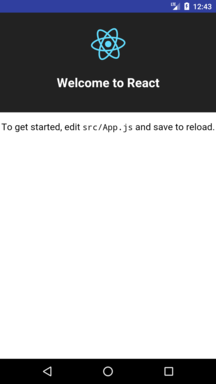 References